What are Proactive Flows?
Proactive Flows are "proactive" flows. They pop up in a transparent mode and are triggered by customers' behavior on the website. Check out the example below: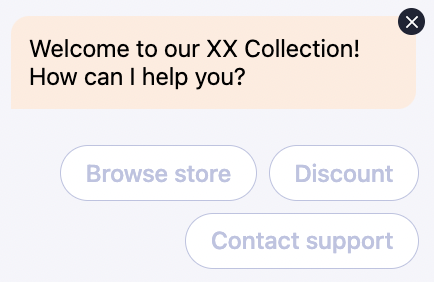 When Rep's AI-powered Rescue Algorithm recognizes that a visitor is disengaged, i.e., about to leave the website without placing an order, a Proactive flow is invoked (if there's a suitable published Proactive Flow in place). The purpose of these flows is to save lost revenue by converting the disengaged visitor to a paying customer.
Proactive Flows are set up to be engaging and relevant to the page the customer is on and usually start with the Choice Component - a short opening line and a few chips.
How do I create a Proactive Flow?
To create a Proactive Flow, go to Advanced > Proactive Flows > Create new and choose on which page you'd like to approach disengaged customers proactively. The components are automatically added for you.
Note that the Components are filled in with a default configuration. It is crucial to dive into each Component to ensure it suits your needs and preferences.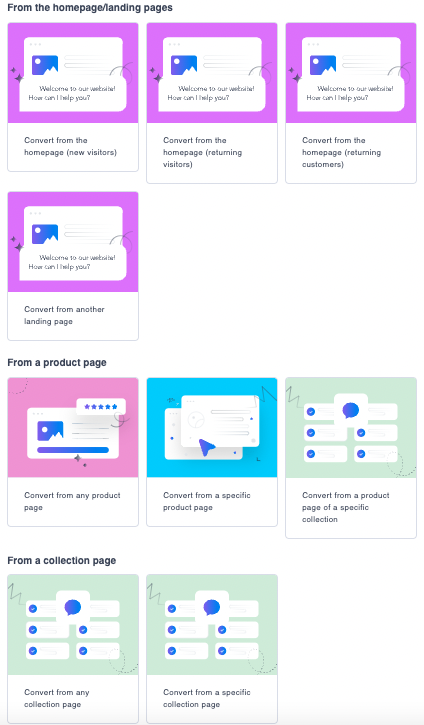 Once created, your flow and any changes you make will be auto-saved; you can leave the flow and return later - the last configuration will be kept.
When will my Flow start working?
The Flow will be in Draft mode until it's published. As long as it's in Draft mode, it will not approach customers or be visible to any customer.
How do I test my Flow before publishing it?
Any Flow or Flow changes can be reviewed before being published. Rep's simulator lets you see what they would like in real life.
You can test the whole Flow or start your preview from a specific Component:
To test the whole Flow, click on the button in the screen's top right corner.
To start with a specific component, hit the button in the top right corner.
The simulation will be presented on the same screen on the right.
How do I publish my Flow?
Would you be ready to make your Flow active? Awesome! Follow these two simple steps:
Hit the button in the top right corner, either in the specific flow's screen or in the general Flow tabs - Proactive/Responsive Flows.


A list of all the changes you've made since the last time you clicked on "Publish" will open up. Click on the button at the bottom of the screen to approve them.

Important note: all listed pending workspace changes will be published once you complete the two steps. Make sure all of them have been finalized to your satisfaction before publishing.