Message Component

The Message Component is designed to deliver content. The purpose of adding this component is to provide a scripted answer to a question.
After adding a Message Component to the Flow builder, fill in the content block on the left with the wording you're interested in: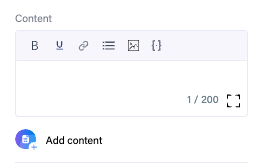 By clicking on Add Content, you can add another content block.
When leaving the ending of your Component open, an automated follow-up message will be presented. To continue with another message, either add a new Component and connect it with the ending of your configured Message Component or, by clicking on "Continue to flow," add a flow after your configured Message Component is finished:

Click on the links below to continue reading about the different Components: