Each flow is made of a few components. Still trying to figure out what is a flow? No worries! Check out THIS guide.
There are a few types of components; Each type serves a different need.
The image below includes all the different components: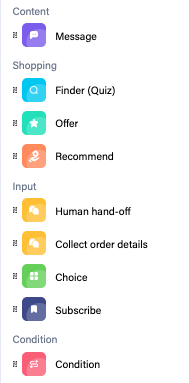 To add a component to a flow:
Enter the flow;
Click on the button (top right corner of your screen). The components list presented above will open up;
Drag the component you wish to add and drop it in your workspace.
In this section, you'll learn how you can utilize each component.
Click on the links below to pick the component you're most curious about: